Apr 10, 2022 12:33 PM Central
Jessica Morrison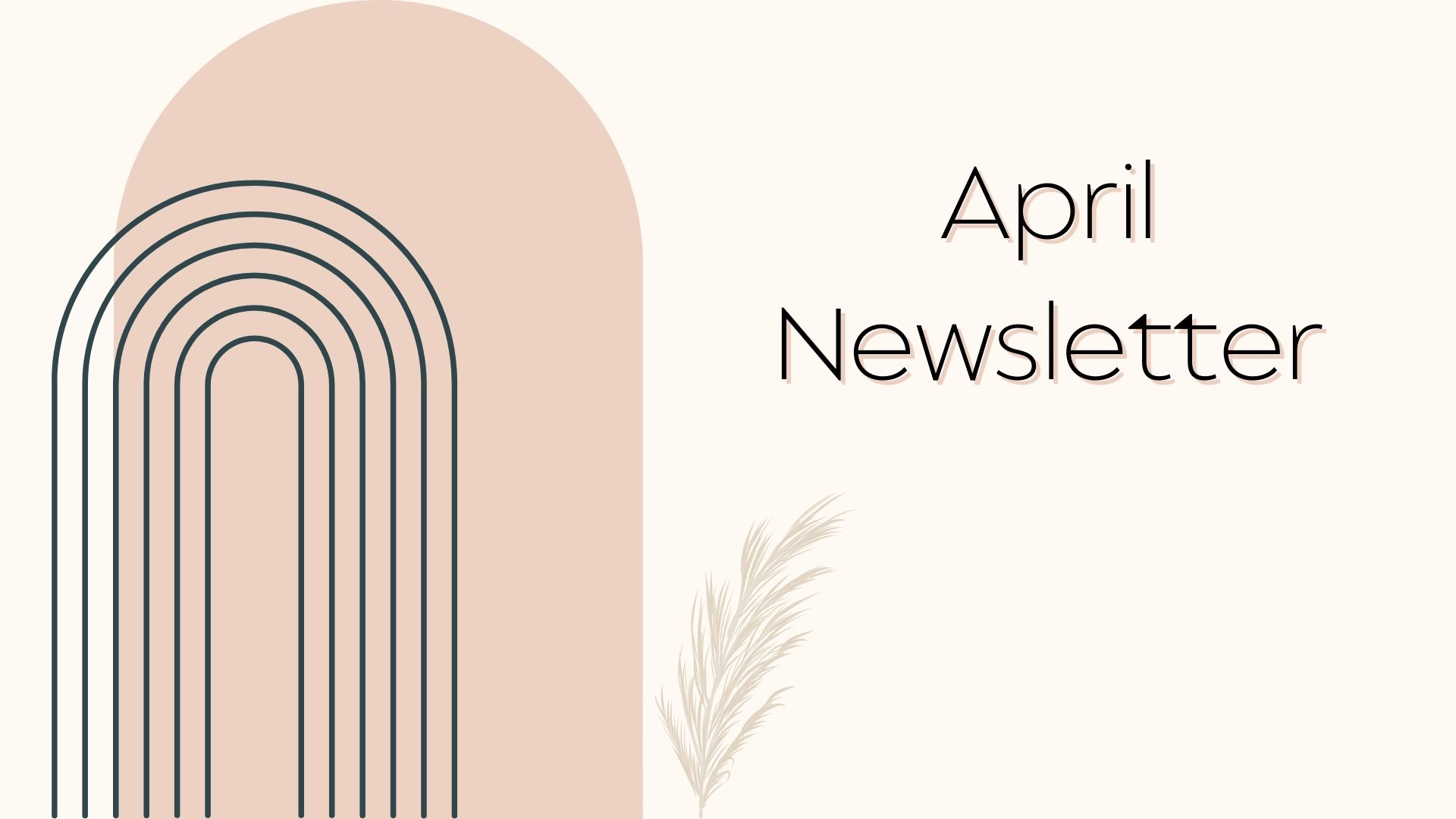 Hello, April!
Can you smell that fresh grass growing? How about those birds chirping? This time of year is filled with an abundance of new life, such refreshing scents and colorful bursts that bring warmth and joy to the heart. Take a look around you and make note of what you're thankful for. Start the day off by focusing on that list of gratitude, speaking them aloud. Then grab an oil like Abundance, Gratitude, or Joy and inhale deeply. It's a chance to refresh your mind and step into spring with an attitude of renewal and grace.
Spring is also a time to throw open the windows and get to a deep cleaning, both in your home and your body! As much as we all hate the act of cleaning, nothing FEELS better than a refreshingly clean smelling home!
Speaking of refreshing scents, try these diffuser blends and start the season off right…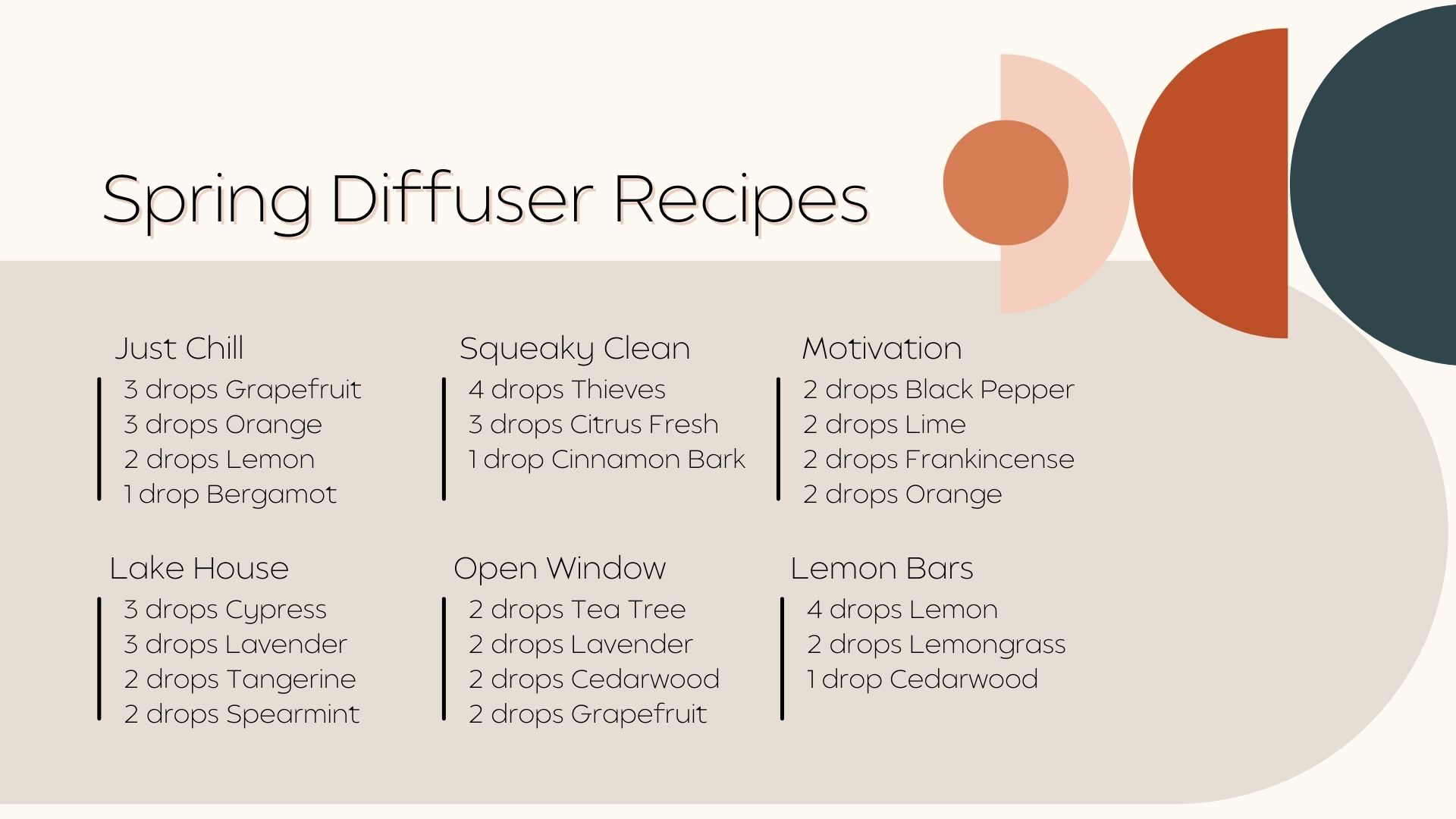 PRODUCT SPOTLIGHT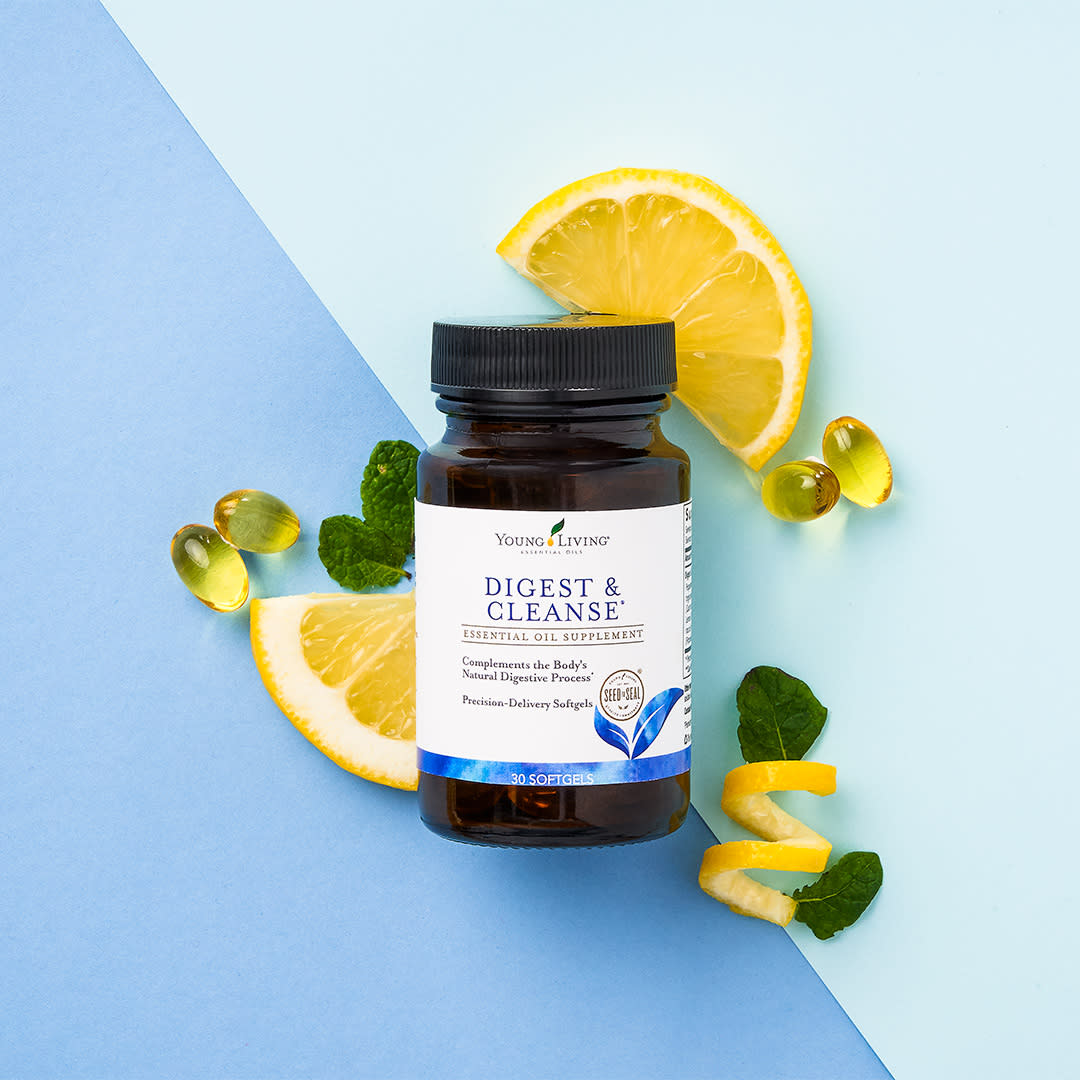 Each gel capsule contains Fennel, Anise, and Ginger essential oils to support digestion; Peppermint and Caraway essential oils, which have been used for centuries to ease occasional digestive discomfort; and Lemon essential oil, which has been used as a traditional method to stimulate digestion. These ingredients work together to support your overall digestive health in a targeted-release capsule for ideal absorption.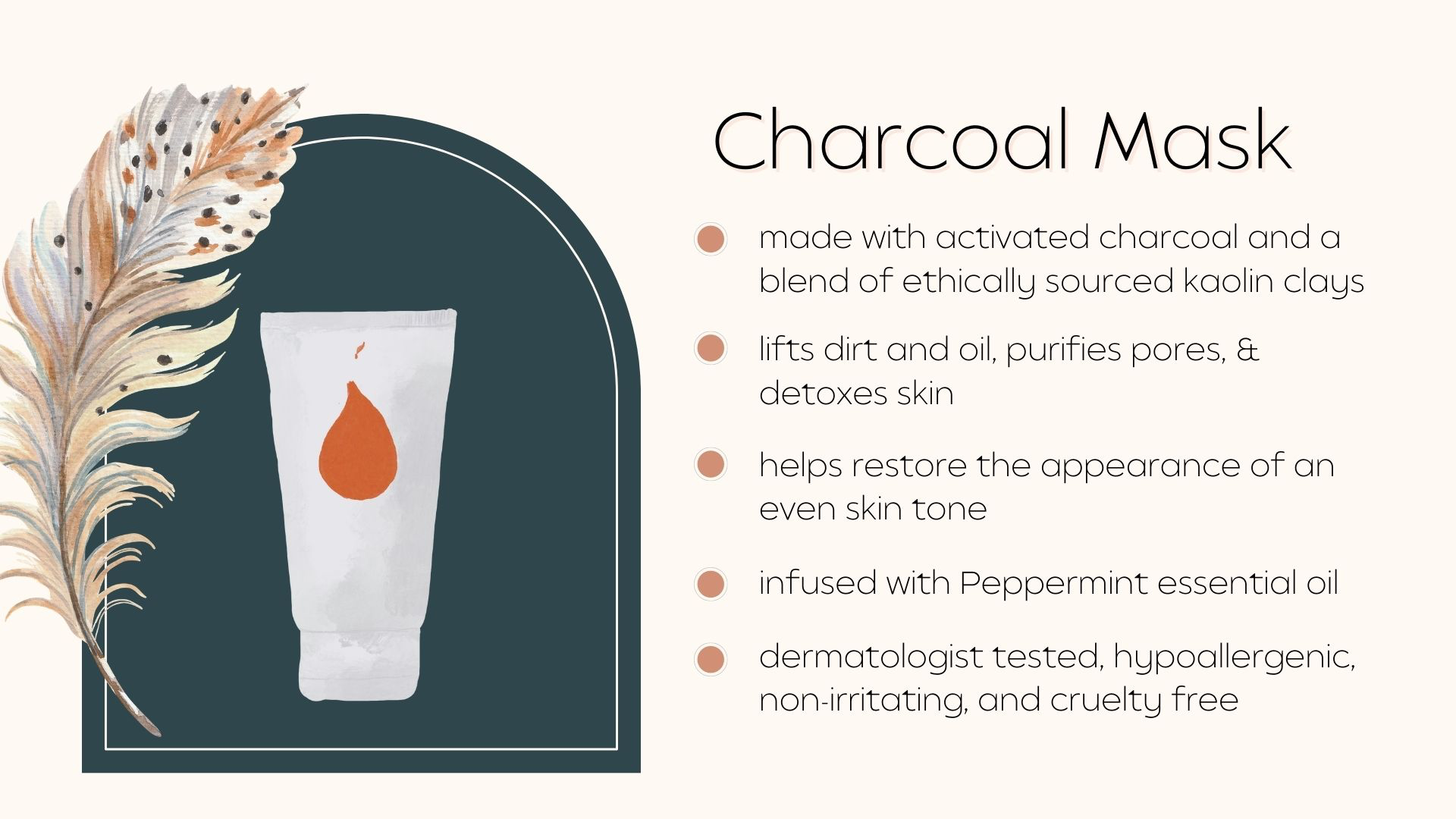 Infused skin carE
Charcoal clay masK
Ooooo, I was just speaking with a friend about this product and how I love it, but can never find the time to use it! So today, I made the time and BAM! My face feels so smooth! Young Living's charcoal mask is perfect for people of all skin types. You can feel the tingling sensation as it dries, letting you know it's hard at work - instantly clearing the complexion and providing the skin with a smoother texture.
When you're pampering and detoxing your skin with a mask, the last thing you should have to worry about is harsh, synthetic ingredients. Young Living's exclusive Charcoal Mask is made with naturally derived ingredients to support healthy skin without the synthetic shortcuts. Our Charcoal Mask uses Tahitian volcanic black sand to gently exfoliate for softer, glowing skin, while activated charcoal from China and South Africa absorbs impurities to detox skin, purify pores, reduce the appearance of blemishes, and restore the appearance of an even skin tone. Made with salicylic acid, a blend of fruit-derived alpha-hydroxy acids (AHAs), and Peppermint premium essential oil, this mask supports the appearance of softer, brighter, and clearer skin and has a tingling action you can feel.
It's free of comedogenic oils and formulated specifically for combination to oily skin to help control excess oil and unwanted shine. It's also formulated without parabens, phthalates, petrochemicals, animal-derived ingredients, synthetic preservatives, synthetic fragrances, or synthetic dyes.
Consumers Agree: 100% said their face felt clean and detoxed after use • 95% said their skin felt smoother and appeared clearer after use. Based on a consumer perception study of subjects ages 25-55 with all skin-types after one use
For oily, combination, and normal skin: Cleanse face with a gentle, non-irritating cleanser; then apply a thin layer of the mask to clean face and allow the mask to harden for 5–20 minutes. Once the mask has changed color and is hard, rinse with warm water to remove. Avoid the eye area, nostrils, and lips. Follow with the rest of your skin care routine, including moisturizer to rehydrate. Use 1–3 times per week.
For dry and sensitive skin: Apply a thin layer of the mask to clean face and allow the mask to harden for 5–10 minutes. Once the mask has changed color and is hard, rinse with warm water to remove. Avoid the eye area, nostrils, and lips. Your skin will likely feel dry after rinsing, so promptly follow with the rest of your skin care routine, including moisturizer to rehydrate. Use as needed or as a spot treatment.
If you own this product, this is your reminder to use it today and if you do not yet own this product, I highly recommend getting it! Your face will thank you for it!!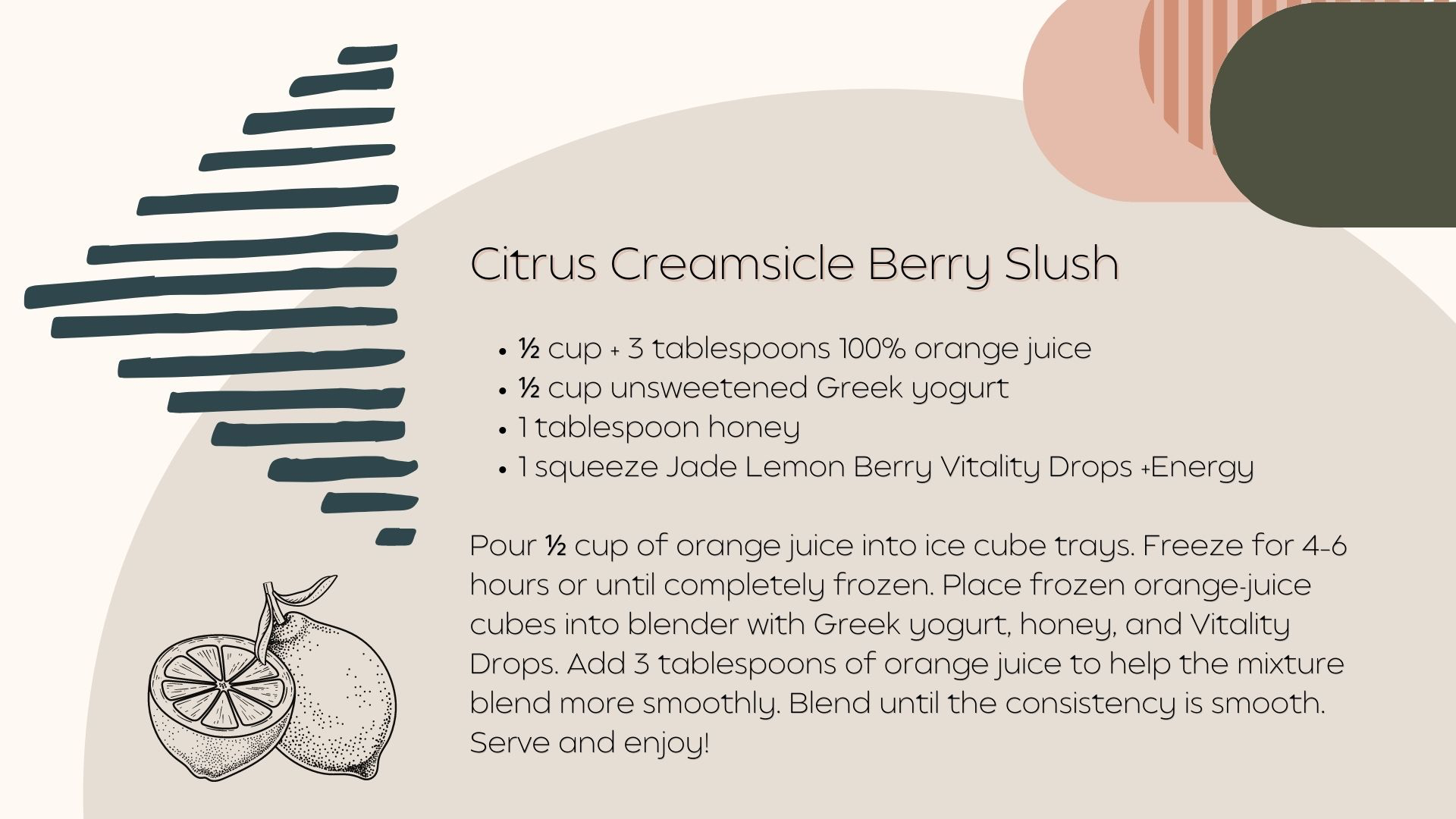 INFUSED in the kitchen
VITALITY DROPS
Have you tried one of the newest flavors of Vitality drops - Jade Berry Lemon?! It's fantastic! This one even contains Guarana Vida, a naturally sourced caffeine. You read that right - it's a delicious burst of energy!
Add it to your water (or other favorite beverage) for an easy and refreshing way to keep your hydration goals on track. With a blend of Brazilian guarana seed extract, green tea, and Jade Lemon Vitality premium essential oil, Vitality Drops + Energy is formulated with optimal levels of natural caffeine so you can enjoy it multiple times per day. It contains natural sweetener and is free of artificial colors or flavors. Try this slushie recipe and tell me what you think…
P.S. There are three other flavors available - Grapefruit Bergamot (contains electrolytes), Lavender Lemonade (contains electrolytes), and Spearmint Tangerine (contains caffeine). Try the variety packs in your next order!
INFUSED gifts with purchase
Monthly Gifts with Purchase
When your order hits one of these PV levels you will receive the corresponding products for FREE! Look at everything you get for free when you hit 300 PV!
Receive the Subscription Exclusives when your order is placed through the monthly subscription program, which is the best way to save money and support your health. If you need more details on this, let me know!
RECIPES USING YOUR MONTHLY GIFTS
infused recipes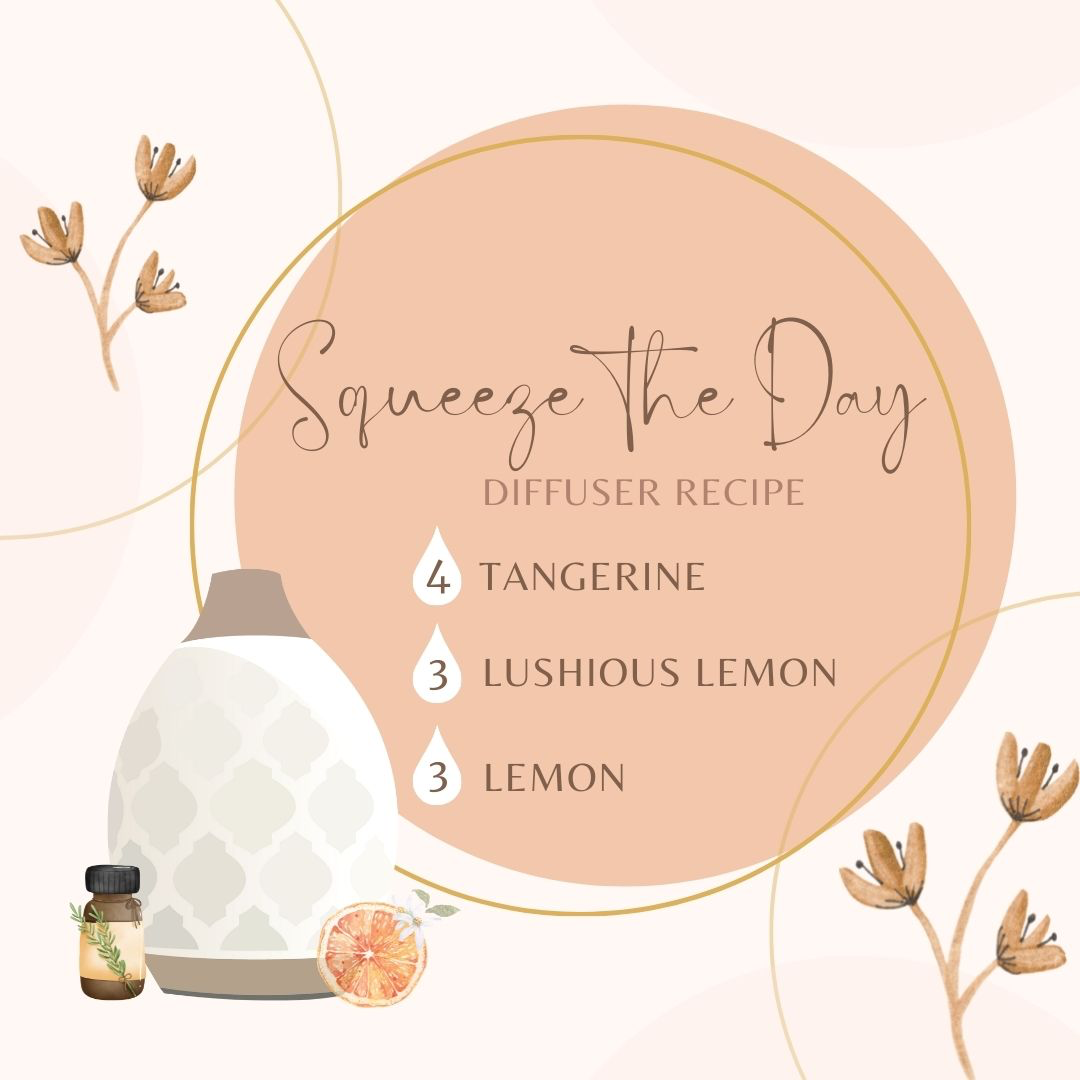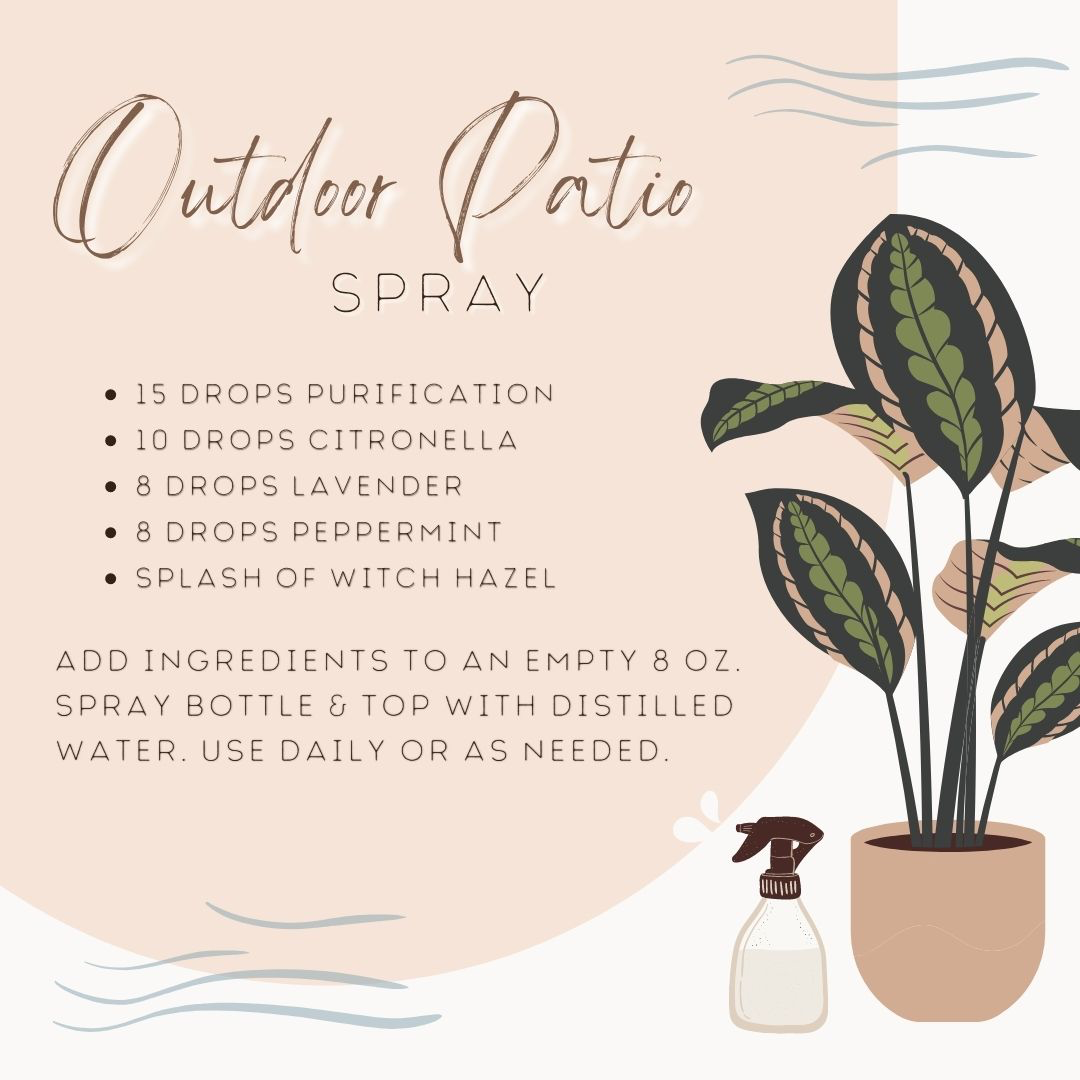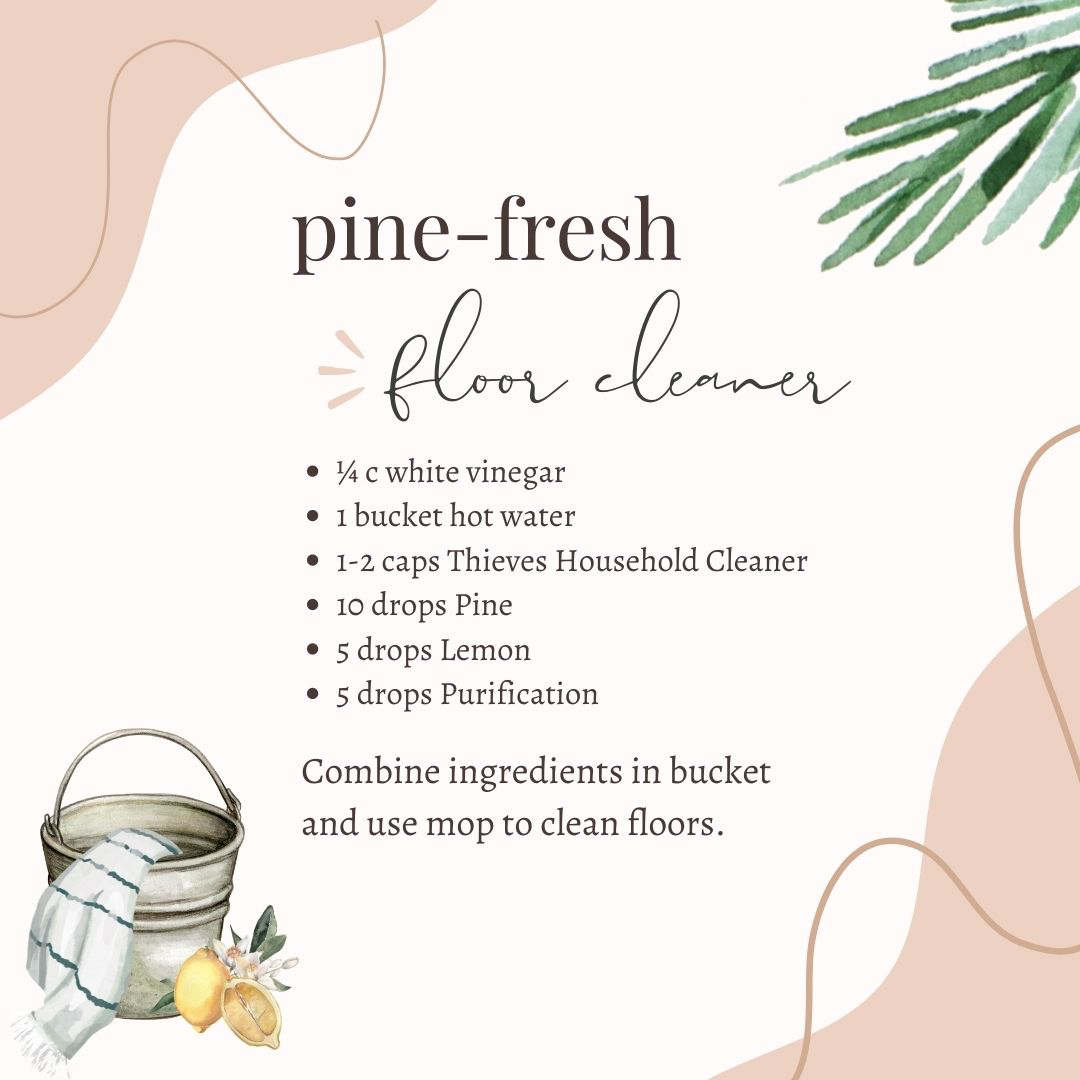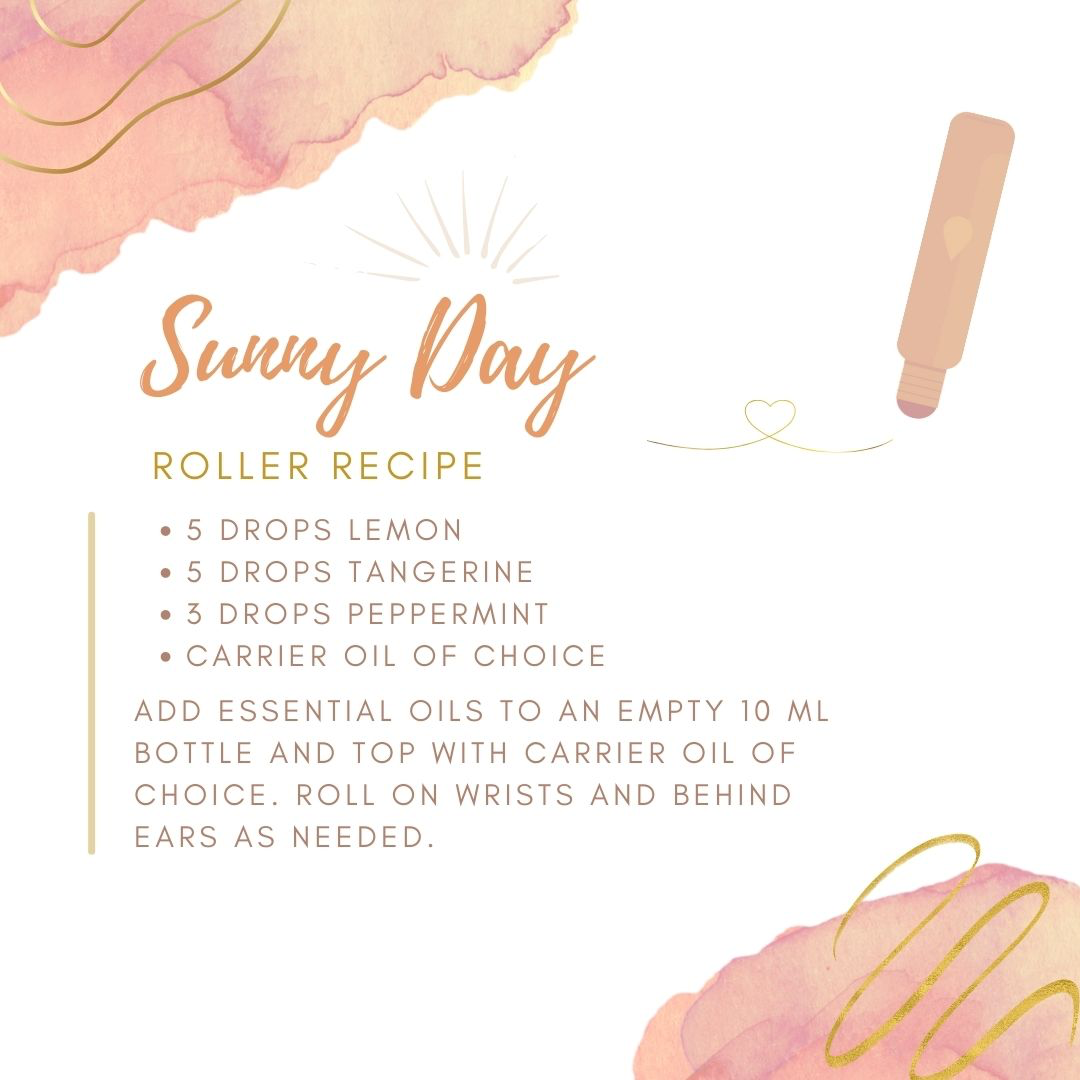 infused WELLNESS BOX IDEAS
Young Living is more than just essential oils. It's a gateway to a lifestyle filled with wellness, purpose, and abundance. If you haven't ditched the toxins in your home - do it now! Start with one room and tackle one area at a time. Then set up a wellness box to arrive at your doorstep with safe replacements.
Simply log into your account, find the items you want, and click "Add to Subscription." Add at least 50 PV to your subscription box and you'll earn points to spend on future one-time orders! Add at least 100 PV to your subscription box and you'll automatically get a freebie added to your cart!
You can choose to have those items arrive monthly OR stretch them out to every two or three months - up to you. Don't want them in your box anymore? No problem! Just delete them and add in what you DO want. It's simple and completely customizable. Here are some ideas for your April box…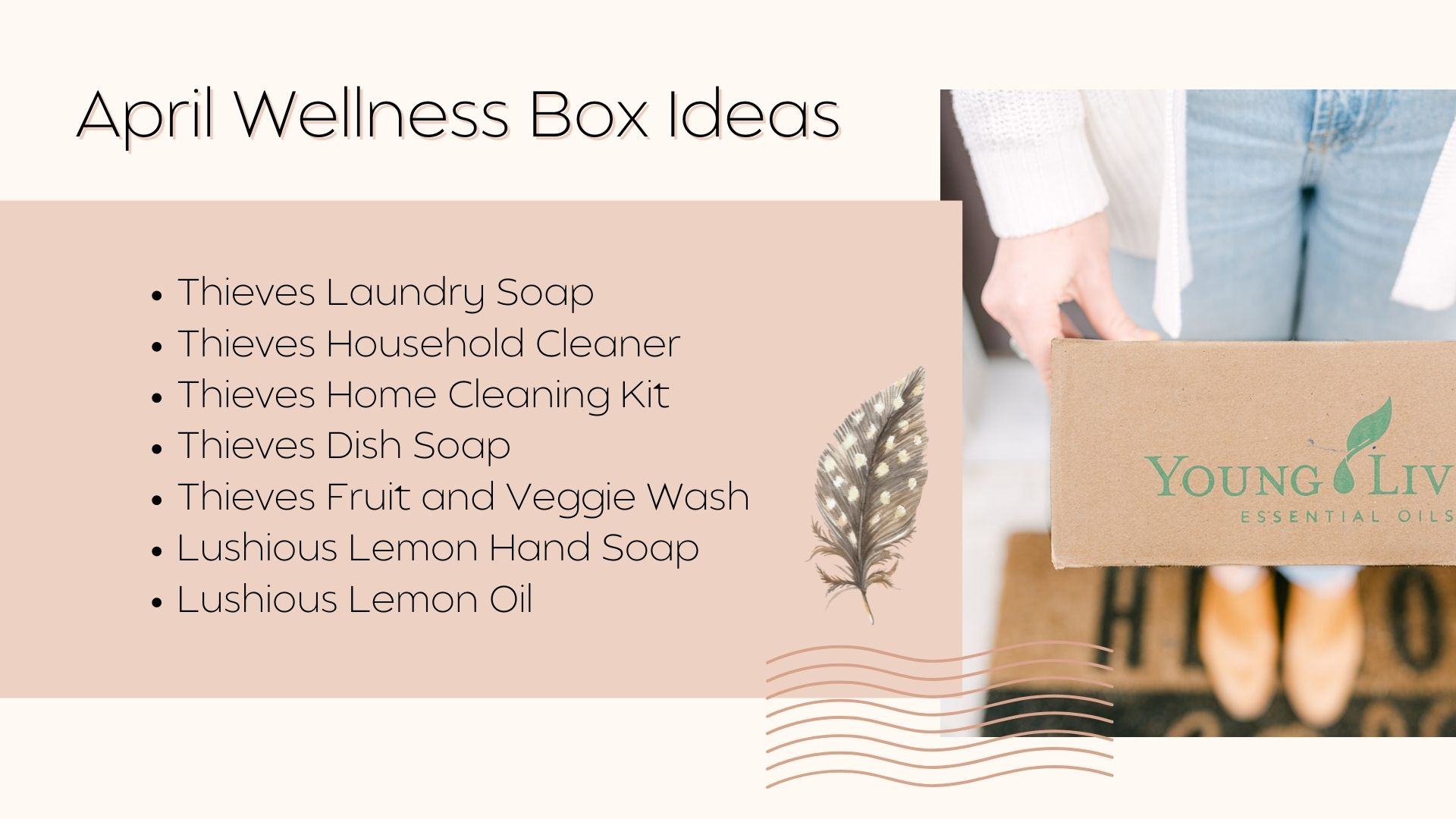 As we close this months newsletter, we want to share there are plenty of things in life that feel hard.
Marie Kondo-ing a wardrobe full of favorites (does this "spark joy?") . . .
Twisting a stuck lid off a jar of almond butter you're craving . . .
Turning off Netflix in the middle of a binge-worthy series . . .
Those are truly tough scenarios!
But taking control of your wellness doesn't have to be one of those hard things. Remember, we are here for you to help guide you on your journey! We can lead you, but you must be the one that moves forward. Not sure how to continue? Reach out to one of us, book a Zyto Scan to find out what YOUR body is truly needing to be at it's peak wellness, go grab an oil and inhale the aroma goodness and exhale stress and put a few drops of your favorite essential oil in the diffuser right now! You will notice a difference in your energy almost
immediately
. Isn't that what we all need?
Your Friends In The Oiler Room