Apr 30, 2023 08:53 AM Central
Jessica Morrison
Hi Friend!
How was your week? Mine went by super fast! Did you have a chance to look at your personal care products to see what ingredients may be hiding in them? Did you venture to the store and notice all of the Green Washing? Maybe you were only able to get the laundry done, or maybe you got caught up on sleep. However your week went, I wish for you all the goodness this new week brings!
Last week we went over 7 ways to make your life healthier by swapping out products. Today we will go over 7 more. Ready? Let's go!
8- Face Cleanser
You've likely heard the saying, "You are what you eat." And the same theory holds true for your skin: What you apply to your skin is absorbed directly into your body. Considering that the skin is your body's largest organ, it's crucial to know what you're putting into your system.
But if you've ever turned over the packaging of your favorite facial cleanser, you noticed a long list of ingredients you didn't recognize?
Top 5 ingredients I suggest you avoid:
1. Sodium lauryl sulfate
3. Propylene Glycol- sometimes just called "oils" but not what you want. Instead it would say- pure essential oils
Young Living Option-
This one is simple. If you want a super easy swap out, grab the Young Living Charcoal Bar Soap! Many Young Living leaders us it not only on their bodies, but their faces! Keep it by your sink in a soap dish and just use a washcloth to get some suds going and wash your face. It is simple and effective. This routine paired with the glow moisturizer has truly transformed the skin of many people! Cruelty Free, Vegan and Vegetarian Friendly, you just can't beat it! Read more about the
Charcoal Bar Soap
here. Glow Serum Recipe below.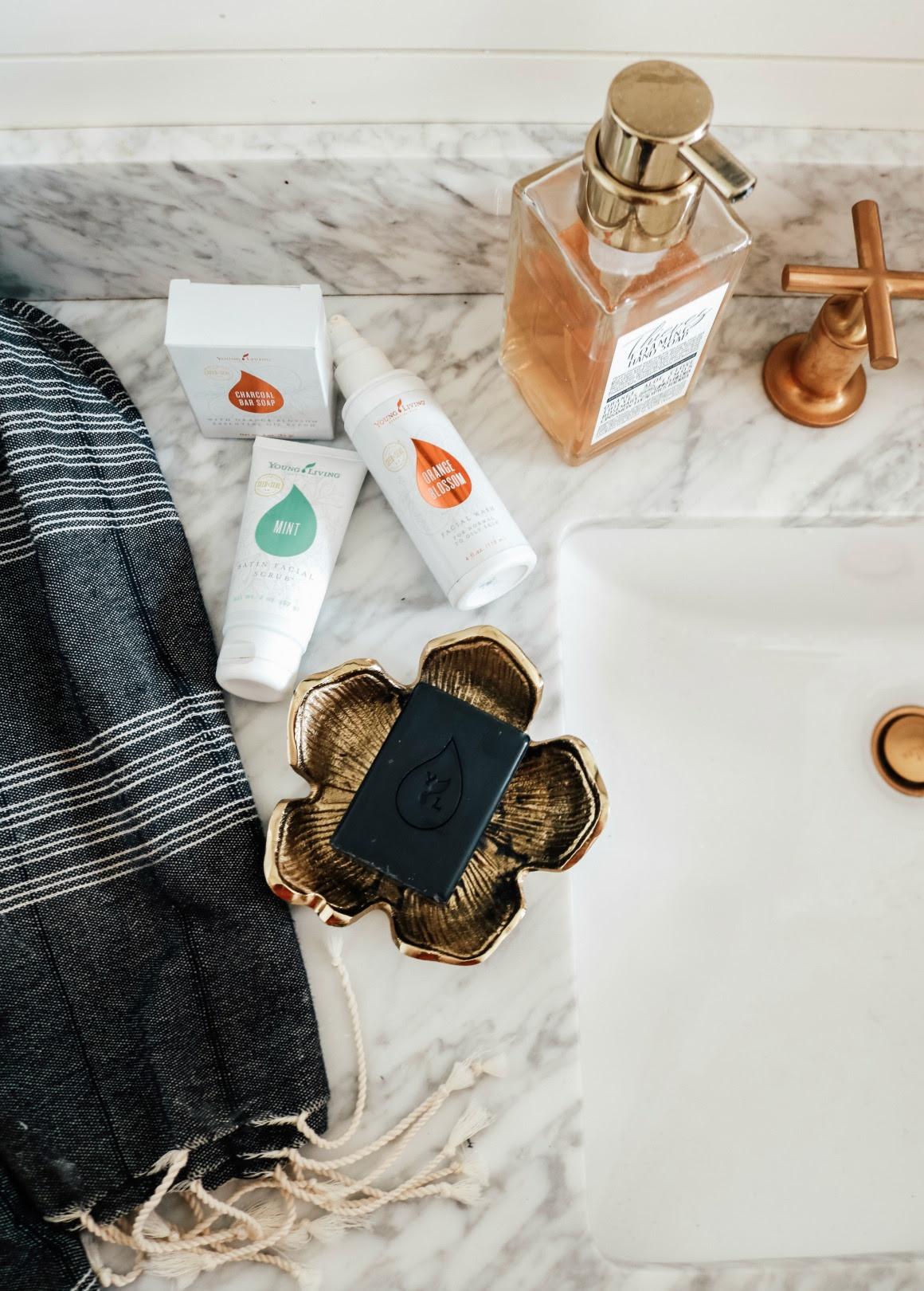 9- Face Moisturizer
Parabens. You've heard the word, but do you REALLY know what they are? They are one of the most common cosmetic ingredients mainly used as preservatives in makeup products that stop bacteria, yeast, and mold from growing. This ingredient has another side to it; it can mimic estrogen (female sex hormone) very well. Due to this, it is believed to be the cause of breast cancer in many women. Parabens easily get absorbed in the body and are detected in many breast cancer tissues.
Click Here
to read more evidence about Parabens from the Breast Cancer Prevention Partners Website. Did that just make your stomach sick? It did for me. PLEASE! Stop using toxic products!
Parabens are found in makeup products, body washes, deodorants, shampoos, facial cleansers and more!
Instead ditch those toxic ingredients and make your own so you know exactly what is in it!!!! Here's an EASY recipe for the DIYers!
Glow Moisturizer-
this is the ONLY moisturizer I use. You can mix up the combos based on what your skin specifically needs. I love frankincense to help with fine lines and wrinkles, geranium for brightenintg, copaiba to soothe any inflammation and healing. Here is the basic recipe:
4 tbs Jojoba Oil (I use jojoba because it closely matches the oil naturally produced by the skin and won't clog pores)
10 drops Frankincense
5 drops Geranium
5 Drops Copaiba
(I also love adding patchouli, purification, rose or blue tansy as well).
Mix in a 2 ounce dropper bottle and apply by putting it in the palm of your hand and rubbing on like lotion. Don't forget your neck and chest!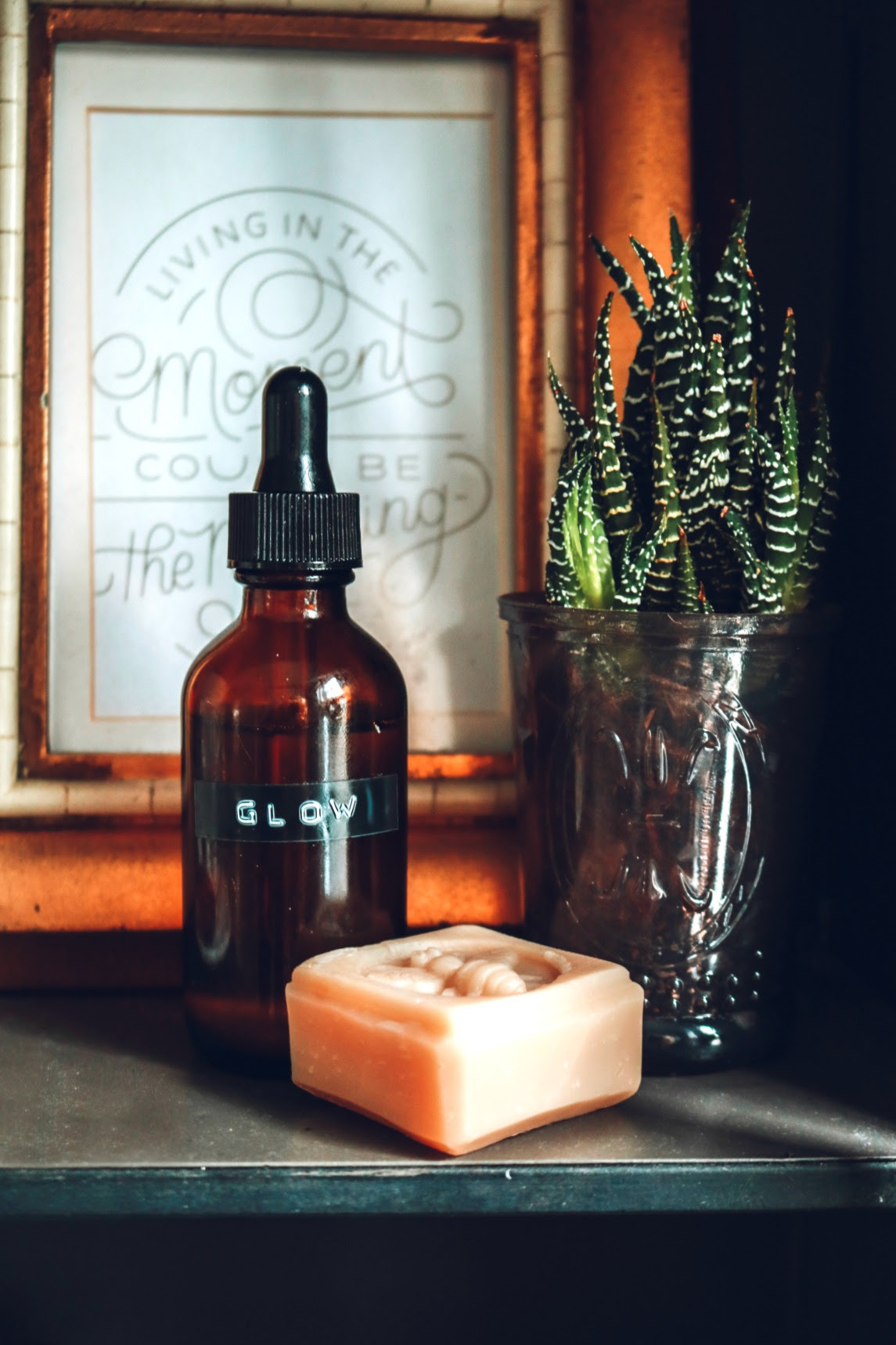 Now listen, I don't always have time for a DIY, and you may not either. That is OK! With Young Living, you can use the EASY button and order the skin care you want! We have 3 different skin care lines, depending on the type of skin you have. That being said, I personally use the Bloom Line. It is made for aging skin, to brighten with a more youthful glow!
10- Shower Curtain
Phthalates are sometimes used to soften the plastic that goes in shower curtains. Phthalates has been associated with causing harmful effects in children. Opt for a shower curtain that is phthalate-free. I use a CLOTH fabric liner and curtain! So easy, non-toxic and I wash it every two weeks. I got mine from Target.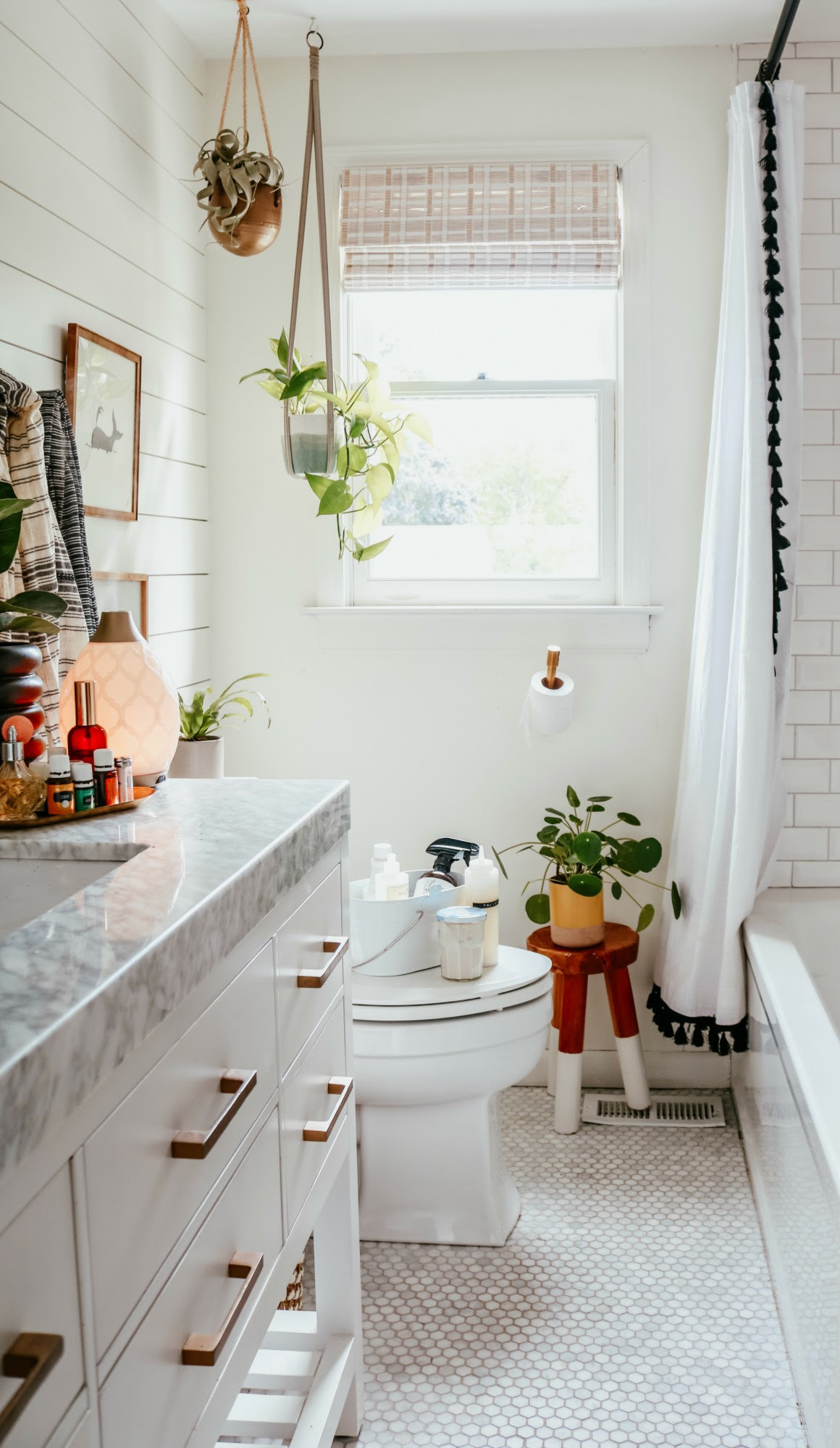 11- Body Wash
The debate continues between body wash and bar soap! No matter which way you lean, it is important that you choose a clean option for getting clean! Additives like fragrance, parabens, and other chemicals should be avoided.
Cosmetic companies have been using fragrances in their products for a very long time. According to research conducted by Environmental Working Group (EWG) Skin Deep Database, fragrances are moderately high in terms of overall hazards and have a high chance of causing allergies and immunotoxicity. They are associated with respiratory distress and potential unwanted effects on the reproductive system.
Young Living Option-
We love the Bath and Shower Gel base (item# 3751) from Young Living to mix in our own oils. We also really love using the Morning Start bar soap (item #3676) and the Lemon Sandalwood (Item# 3675).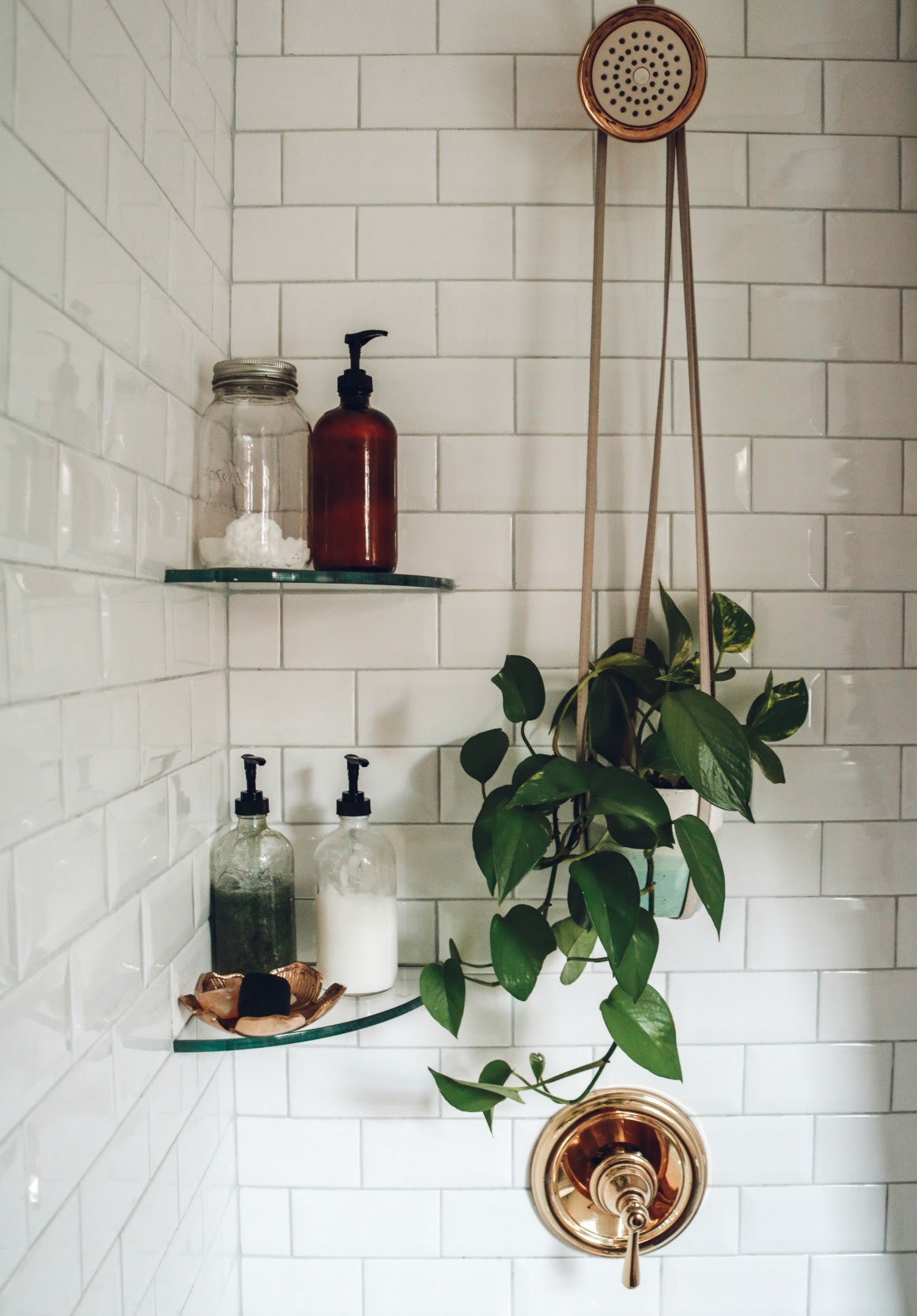 12- Air Freshener
Like cleaning products, air fresheners help keep our homes nice, but a study by the University of California at Berkeley found that when used excessively or in unventilated area they release toxic levels of pollutants. Go through your home and ditch those toxic air fresheners. Or Febreeze.
We actually make our own! Click this link
DIY Room Spray
to get 7 scentsational recipes!
This room spray can also be used for your fabrics to replace things like fabreeze. Freshen up the air, linens, and upholstery with one DIY!
And if you need one for the bathroom, send a reply to this message and I will share with you the EASIEST DIY PooPouri spray!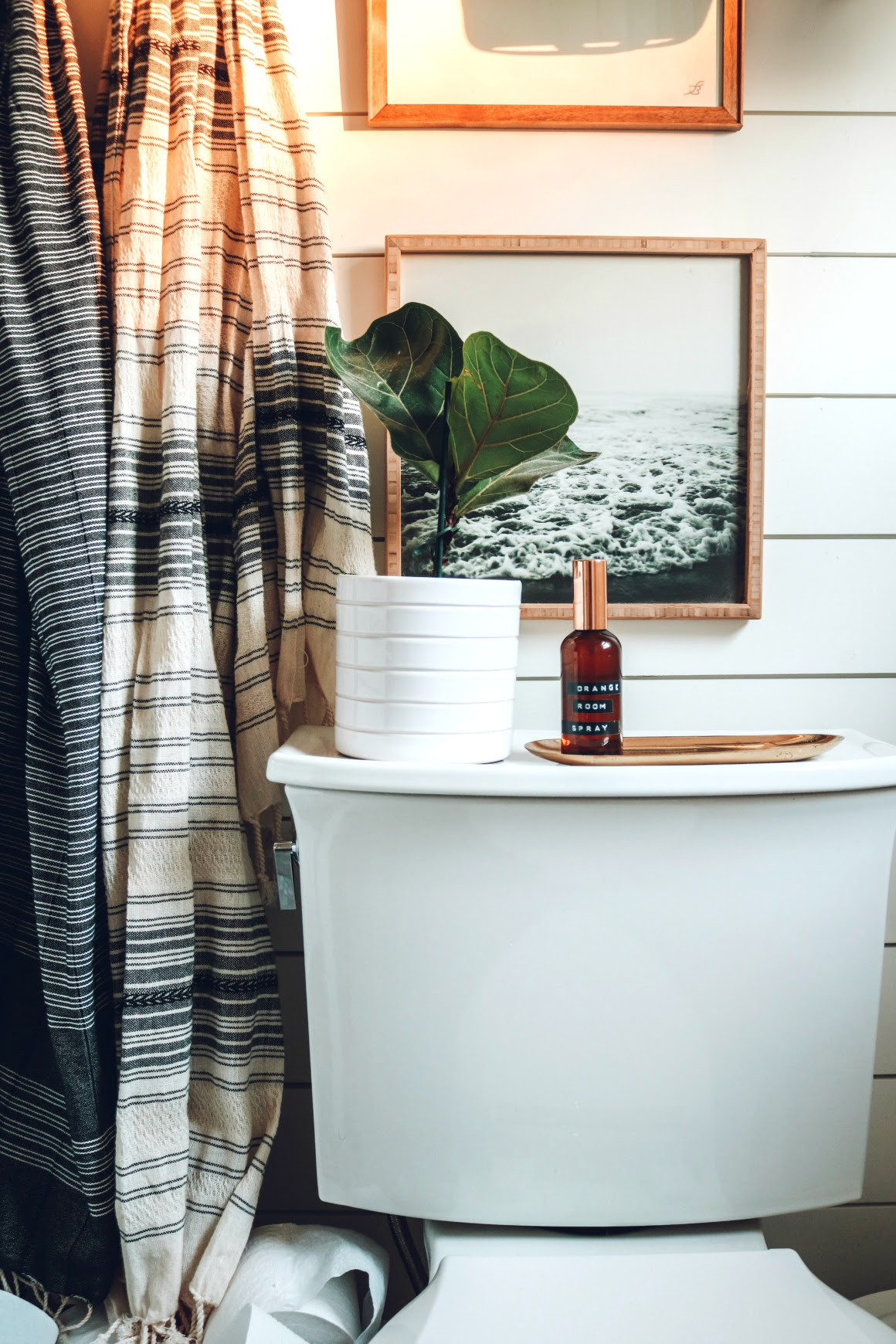 13- Sunscreen
I would avoid these ingredients after searching online- oxybenzone, avobenzone, octisalate, octocrylene, homosalate and octinoxateI. Similar toxins in fragrances. My two favorite go to sunscreens are Young Living
Mineral Sunscreen
(Item #24137) and
Supergoop
Sunscreen.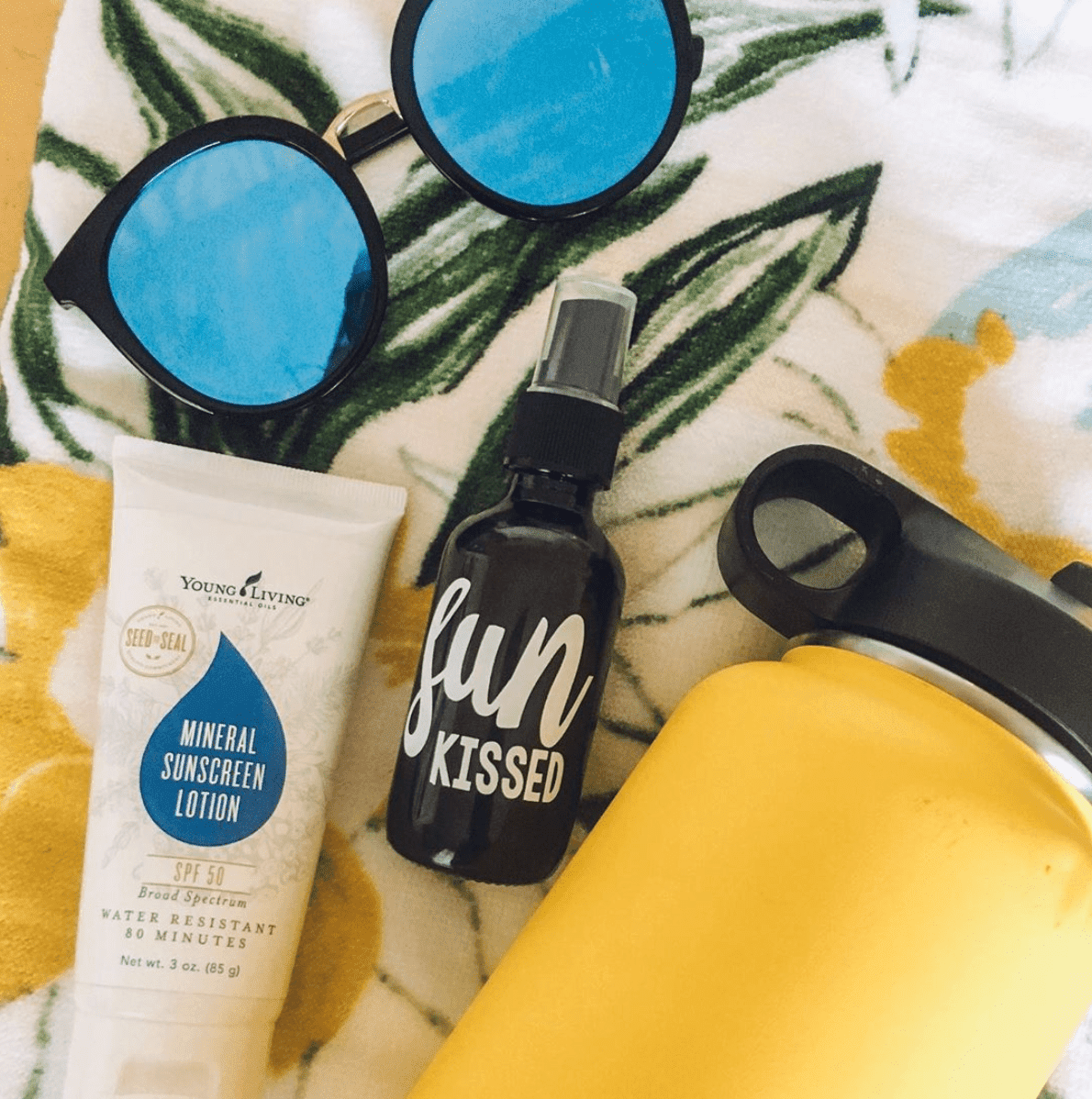 14- Insect Repellent
Bug killers should be avoided inside (and ideally outside) of your house, as researchers have linked the insecticides to neurological damage in children. Scary!! For outdoors I try to just use citronella in a diffuser, non-toxic and free of D.E.E.T or petroleum. I also make my own bug-off spray! Here's the recipe:
BUG OFF SPRAY
2 ml spray bottle
1 oz of witch hazel
3-5 drops each of citronella, lemongrass, peppermint and lavender (Young Living of Course)
Fill the rest up with distilled water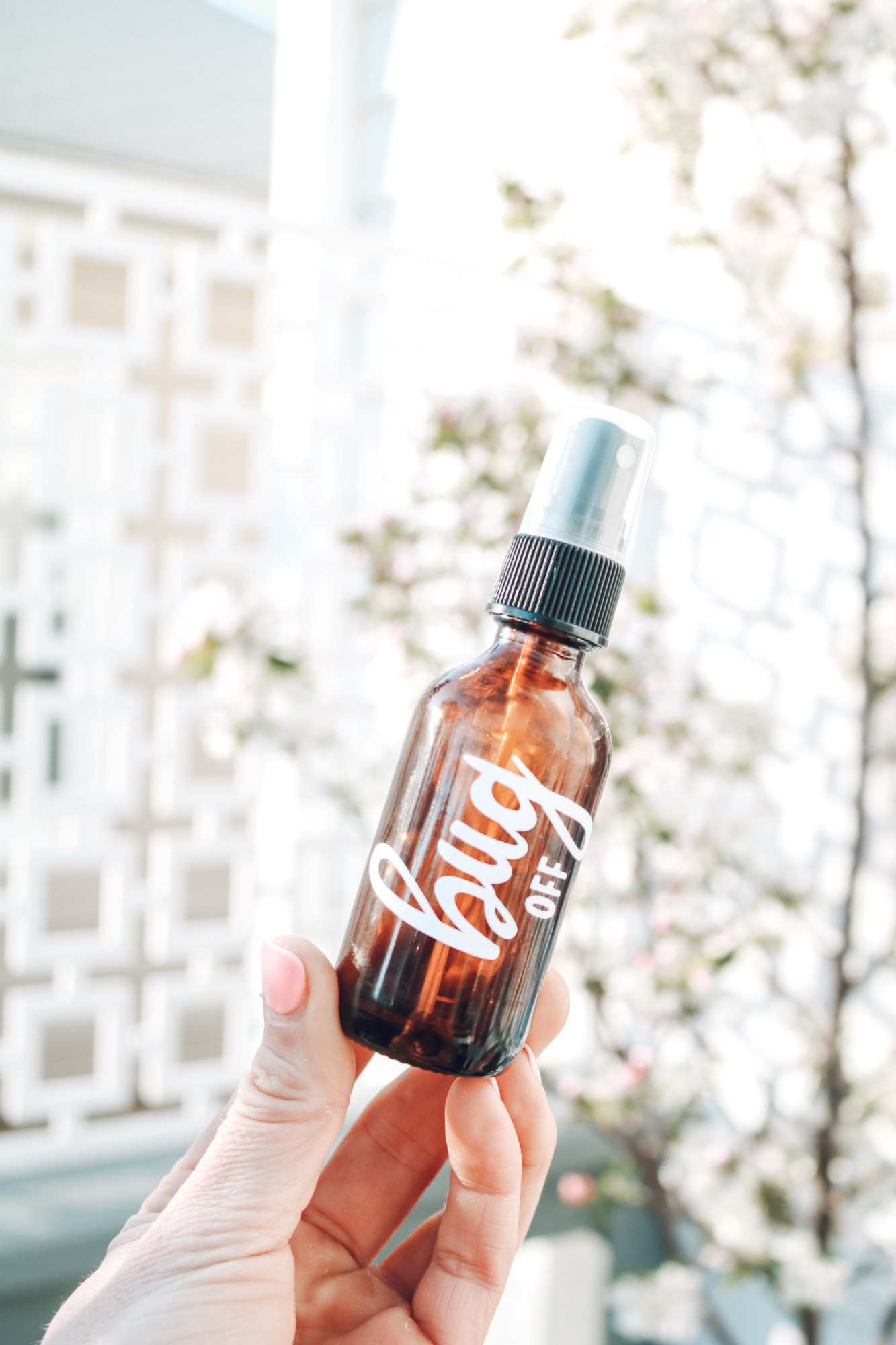 And there you have it! 7 more ways to remove toxic ingredients from your life!
If you have any questions about any information in the email, Young Living products, or even if you just want to say, "Hi"... reply to this email! We'd love to hear from you!
Always remember, it is easier to stay well, than to get well!
Your Friends in the Oiler Room