Sep 4, 2023 07:06 PM Central
Jessica Morrison
It's Almost Fall, Y'all !!

And I don't know about you, but

my skin is really feeling the change of seasons.

It's so much

dryer, more sensitive

and doesn't feel as nourished and resilient as it did during the summer.
What can we do? Let's talk about it?
The best thing you can do is

reach for fatty plant oils (Carrier Oils) and oil yourself up everyday

!
Carrier Oils, a.k.a. Vegetable oils or Fixed oils

are the lipid (fatty) extracts that are cold expeller pressed from nuts and seeds. Think almond oil, argan oil, marula oil and jojoba oil.

They are made up of the kinds of molecules that help our skin stay strong, hydrated, moisturized and resilient.
These amazingly unique molecules are what we identify as

essential fatty acids

, or

EFA's,

vitamins, minerals, wax esters, sterols and other vital nutrients that are needed for our skin's wellbeing.
As we age, our skin loses its ability to make its own natural oils that help protect and keep it lubricated and resilient. So applying oils to our skin helps to actually replace the oils we've lost, and ensures that our skin's barrier function stays strong and uncompromised.
Here are 5 Carrier Oils that are Best for Nourishing our Skin this Fall:

Young Living's V6 Vegetable Oil Complex
Young Living's V-6 is comprised of colorless and odorless antioxidant vegetable oils.
Almond Oil, which high in vitamin E helps support oxidative damage.
Fractionated Coconut Oil, a light stable oil with a long shelf life
Grape Seed Oil, nourishing to the skin
Olive Oil, rich in cell protecting phytonutrients and antioxidants, such as Squalene, which can help with acne and eczema
Sesame Seed Oil, contains powerful phytonutrients and
nourishing
to the skin
Sunflower Seed Oil, compatible with the skin's natural oils and sebum
Wheat Germ Oil, rich in lecithin, vitamin E and vitamin B. It helps to protect the skin from free radical damage and is moisturizing and noncomedogenic.
Benefits: Moisturizes, nourishes and soothes dry skin, works to help improve the natural skin barrier, reduces the appearance of fine lines and wrinkles and replenishes the skin's youthful glow. It is a stable oil blend with a long shelf life. Does not clog pores and will not stain clothes.

Avocado (Persea americana)
Benefits:

Nutritive, penetrating, non-greasy feel, cell and tissue reparative, aging skin, dry, weakened skin that needs fortification. Stable oil.

Jojoba (Simmondsia chinensis)
Benefits:

Non-greasy feel, fast absorbing, anti-inflammatory, balances sebum, soothing, healing, tissue and cell reparative, protective. Stable - long shelf life 2 years +.

Rosehip (Rosa canina or Rosa rubignosa)
Benefits

: Anti-inflammatory, tissue reparative, wound healing, cell regenerative, thick feeling, medium absorption. Short shelf life - must be refrigerated.

Hemp Seed (Cannabis sativa)
Benefits:

Soothes inflammation, healing, supports barrier function, non-greasy feel, reparative, good for stressed, damaged skin. Short shelf-life - must be refrigerated.
Here are 3 Ways to Use Them:

Body Oil:
A simple and easy way to hydrate and nourish our skin all over our body. Adding Essential oils? try 8 drops Sage, Pine and Lemongrass. Great for skin tightening and can be applied twice a day. I also share a fabulous body oil recipe below!

Face Oil:

A simple and easy way to even out skin tone, balance combination skin and encourage skin regeneration, and a dewy healthy glow. Have you tried the Sacred Seven blend?!? Do you want to try it? Here is the recipe.
Created with Rose Hip Seed Oil, and SEVEN drops of each Frankincense, Sacred Frankincense, Geranium, Sandalwood, Myrrh, Jasmine, Ylang Ylang, and Elemi for revitalizing, hydrating and rejuvenating skin. Goodbye fine lines, wrinkles, sun damage, and age spots! YES, PLEASE!!

Scalp Oil:
A simple and easy way to balance out the skin of our scalp to promote healthy, vibrant looking hair and relieve itching. Use twice a week before shampooing. Try Lavender, Cedarwood (Think Dry Scalp) Rosemary, or
Peppermint
(Think Oily Scalp). I also love using Clary Sage in my scalp blend (Think Hormone Hair Loss)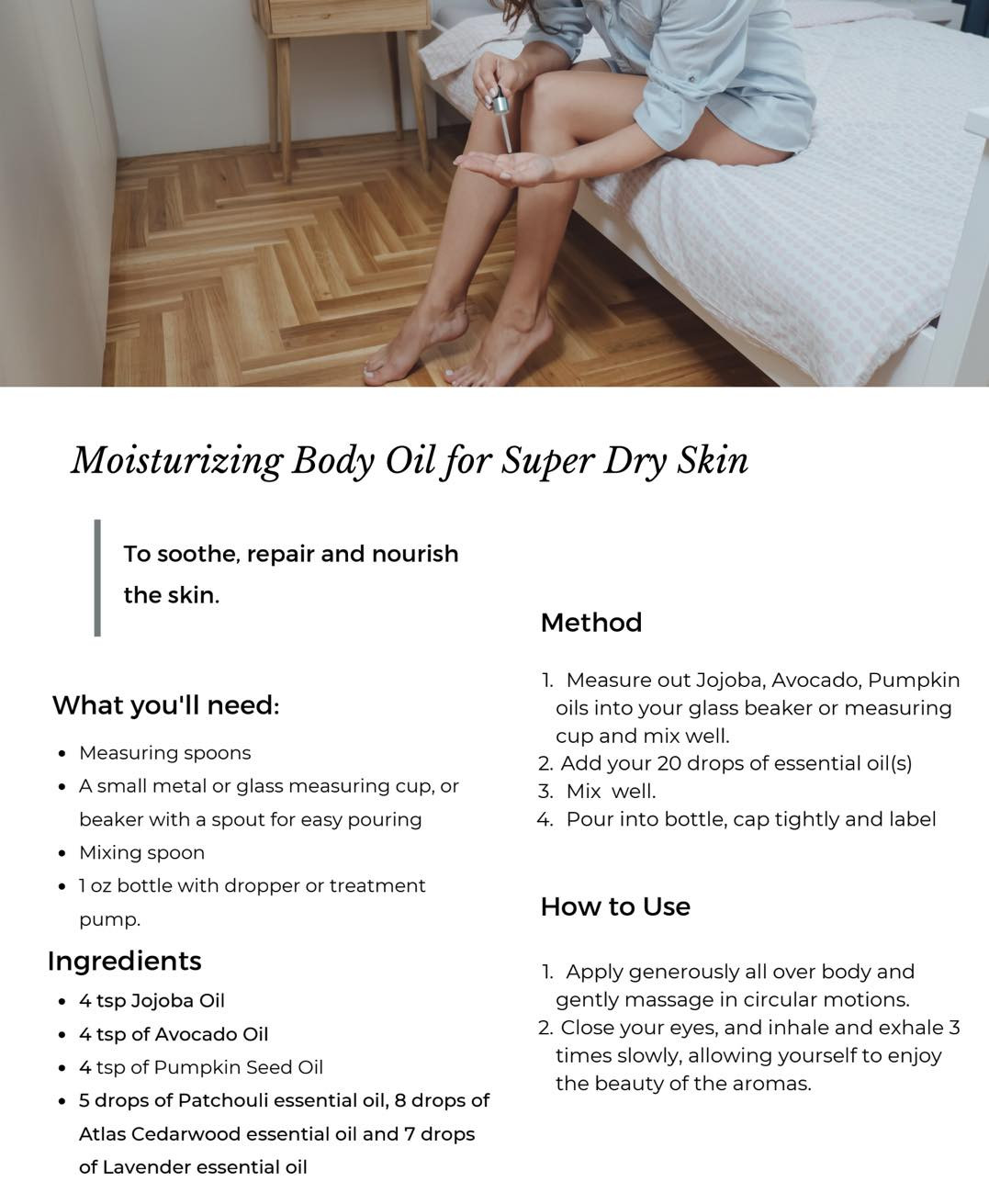 So, there you have it! The 5 best Carrier Oils for Fall Skin Care. We hope you have found this email informative. If there is anything you would like to learn about, please feel free to respond to this email and we will go to work for you!
Remember, as we go into this Fall Season, your health is your wealth! If you know of anyone that would be interested in learning more about Young Living essential oils and how to use them, forward this email, or send us their information. The highest compliment we can receive is the referral of your friends, family and business associates!
Thank you for your trust!
Your friends in the Oiler Room!